Pat Tillman was a football player for the NFL who decided to turn his back on that career and join the United States Army. He died in Afghanistan after being killed by friendly fire, but according to family members, he would have much rather been remembered as someone who fought against tyranny.
Marie Tillman remarried in October 2018. Marie Tillman is the widow of Pat Tillman, a former NFL player who died while serving in Afghanistan.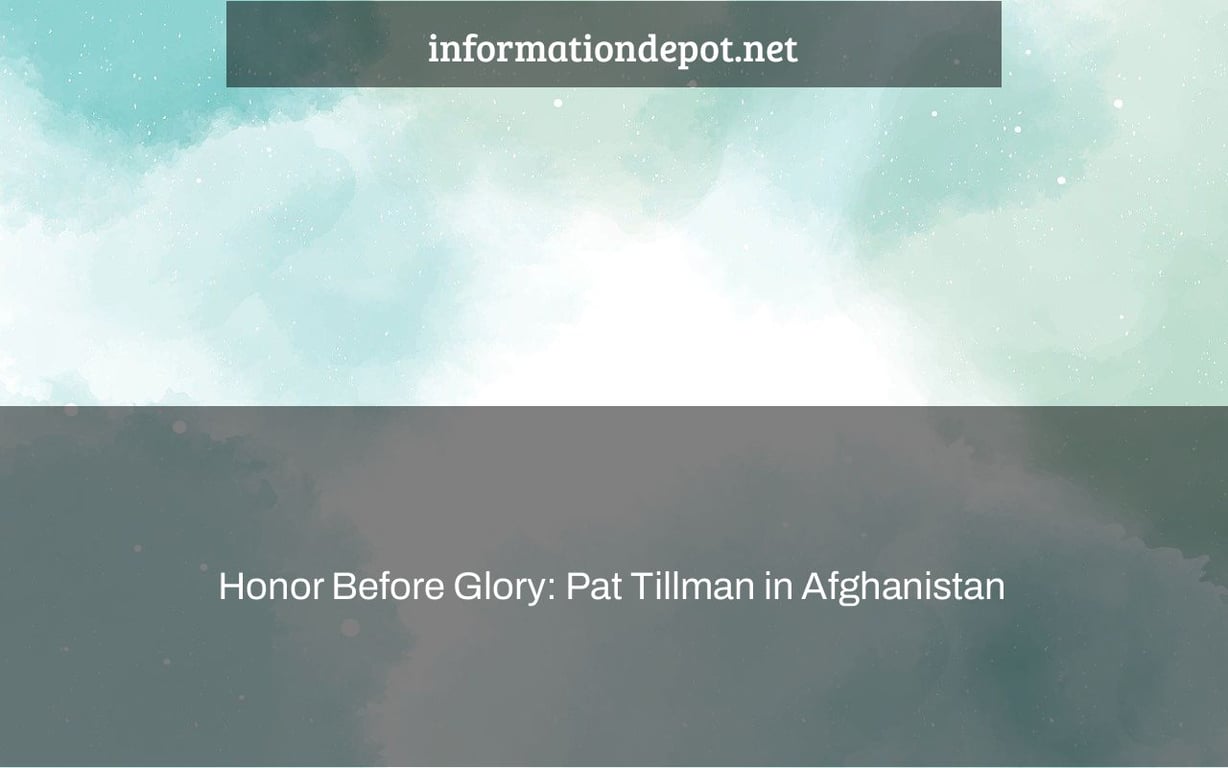 During the 2020 Super Bowl broadcast, a three-minute advertisement showed a youngster sprinting past various current and former National Football League players who encouragely shout, "Take it to the house, kid!" over happy music. The kid, like the music, stops in the midst of the commercial and looks up at a monument of Arizona Cardinals safety Pat Tillman outside State Farm Stadium in Glendale. Following the airing of the commercial, a typical discussion erupted in the press and on social media. Was the NFL honoring or exploiting the legacy of the most famous dead soldier of a generation?
Pat completed the rigorous nine-week Ranger training after returning from Iraq in May 2003, receiving the tab that designated them as full-fledged Rangers. Reuters /
Tillman declined to talk publicly about his decision to leave football to join the Army in 2002, thinking that his enlistment spoke for itself. From the invasion of Iraq through his avoidable death in Afghanistan in 2004, events carried his life, and therefore his legacy, in unexpected ways.
Before the reality came out that he'd been murdered by members of his own unit, the circumstances surrounding his last hours were first hidden behind a smoke screen of awards, political acclaim, and censored papers. Even after a series of investigations and a congressional hearing, his tale continues to elicit heated debate about who was to blame and what his service meant.
Pat's mother, Mary "Dannie" Tillman, lamented her son's legendary position in an interview given five years after his death. "He was a human person, and by imbuing him with this heroic, saintly aspect, you're removing the difficulty of being a human being," she said. "He, like all of us, had to make decisions."
Tillman had chosen the Army over the NFL for a reason. As an enlisted soldier, what had he hoped to achieve? A few hints, such as football-related interviews, his family's recollections, and passages from his own wartime diary, get us as near as we'll ever come to addressing such queries.
Patrick Daniel Tillman Jr. was born on November 6, 1976, in suburban Fremont, California, on the eastern side of San Francisco Bay, and raised with two younger siblings. He was an all-around talented athlete who became a football standout on both offense and defense, compensating for his small size with commitment in the weight room, a penchant for delivering heavy hits, and the ability to anticipate and react swiftly to an opponent's movements. He was 5 feet 11 inches tall and weighed 195 pounds when he was 16 years old. During his senior year, his violent attitude led him into problems when he attacked another kid in a parking lot fight, landing him in juvenile jail for 30 days. Fortunately, the misdemeanor did not prevent him from obtaining the last football scholarship at Arizona State University for the 1994 season. As a defensive specialist, he joined the club.
Tillman claimed his brief stint in prison caused him to rethink his objectives, and his desire accelerated in college. He'd earned a reputation among his pals for scaling big structures and leaping from canyon cliffs into trees. He focused his efforts at ASU on voracious reading and political and international affairs discussions. He completed his bachelor's degree in three and a half years, with a 3.84 grade point average, in December 1997.
The young athlete rose to prominence as a result of his unusual and excellent characteristics, which included a patriotic streak. Tillman referenced renowned World War II General George Patton in one interview. "He once remarked something to the effect of, 'No one ever won a war by dying for their country,'" Pat said. Let the other bitch's kid die for his.' It's people like him, you know, folks whose attitude is a little weird, but it's that insanity that drives them to greatness."
Despite being small and sluggish on his feet for pro football, he caught the attention of the NFL by leading his college team in tackles. Tillman was drafted 226th out of 241 players in the 1998 NFL draft. The Cardinals offered him a one-year deal for $158,000, the league minimum. He outworked and outhit others to win his position as the team's go-to strong safety, while never earning more than the league minimum wage, which for a fourth-year player was $512,000 each year.
Meanwhile, he kept up his reputation for outlandish behavior. He commuted to team practice on his bicycle at first, then upgraded to a used Volvo station wagon. He ran a marathon during the off-season, making him the only NFL player to accomplish it in 2000. He completed an Ironman half-triathlon in 2001, which included a 1.2-mile swim, a 56-mile cycle ride, and a 13.11-mile run. He also went back to ASU to get his master's degree in history.
Tillman turned down a $9.6 million offer in 2001 because he didn't want to leave Arizona to play for the St. Louis Rams, and then a $3.6 million offer from the Cardinals in spring 2002 because he didn't want to leave Arizona to play for the Rams.
Tillman joined the Arizona Cardinals in 1998, where he outworked and outhit colleagues to win a position as a strong safety for the club. / Photo: Getty Images
Tillman was deeply affected by the terrorist events on American soil on September 11, 2001. He spent the morning at home, then with teammates at the Cardinals' practice facility, watching TV images of the developing catastrophe. He was particularly taken aback when he saw video of desperate individuals jumping from the burning World Trade Center buildings, clutching hands.
He sat for an on-camera interview the following day, putting his pro sports career on hold. "My great grandpa was at Pearl Harbor, and a lot of my family…has gone and served in wars, and I haven't done a single thing in terms of putting myself on the line like that," he added. "As a result, I have a lot of respect for people that have." The interviewer then inquired about his desire to return to the field. He responded, "You know, we play football." "It's little in comparison to all that's happened."
While Tillman's parents instilled in their children the importance of questioning authority, they also instilled in them a respect for other Americans who had accepted the call to serve. Dannie, a college history major, pondered on those lessons after Pat's death. "Discussions about the military had been a part of the boys' childhood—why people fight for their nation; why they should; when it is appropriate to do so; the impact of war on individuals; how it cruelly destroys them or allows them to accomplish heroic things," she wrote. Visits to Gettysburg National Military Park and seeing plebes march at the United States Military Academy at West Point were among Dannie's fondest recollections.
Pat researched his alternatives in the six months after 9/11, and in February 2002, he traveled to Provo, Utah, to climb frozen waterfalls and talk with a former Force Recon Marine. Tillman informed his middle brother Kevin, who was then a minor league baseball player with the Cleveland Indians organization, after choosing to join the Army. Kevin, who had pondered military duty since he was a teenager, left baseball to join Pat, much to everyone's astonishment. The Tillmans visited with a recruiter who indicated that joining the Army Rangers would include a three-year commitment, brief (three-month) deployments, and the option of being stationed at Fort Lewis, Wash., just south of Seattle.
Pat and Kevin, who are 14 months apart in age and have been close friends since childhood, phoned Dannie on Mother's Day in 2002 to tell her about their plan. They had intended to do it in person, but Pat had been seen by someone at the recruiting station, and the brothers were concerned that they would soon be in the news. Despite possessing college degrees, they decided against becoming police officers because they disliked the notion of putting others in danger.
Pat wrote a thoughtful document named "Choice" on April 8, 2002, in which he wrote, "It appears that more often than not, we know the correct decision well before it's really taken." He said that being an NFL player "strokes my ego enough to mislead me into believing it's important…[but] particularly given recent events, I've come to realize exactly how shallow and meaningless my position is." Pat married Marie Ugenti, his one and only love, the following month, and the couple honeymooned in Bora-Bora. He and Kevin signed their enlistment papers and took the oath of allegiance in June.
The military authorities of the country kept a close eye on the Tillman brothers from the time they enlisted. In a letter to the Army secretary, Secretary of Defense Donald Rumsfeld described Tillman as "world-class" and said, "We may want to keep an eye on him."
He sent Pat a personal letter of appreciation on June 28. Rumsfeld's top military aide subsequently said that it was the only occasion the defense secretary had given a soldier personal congratulations on his enlistment. Major General John Vines also wrote to the Tillmans, asking them to join the 82nd Airborne Division rather than the Rangers.
Pat and Kevin left on July 8 for basic and advanced individual training at Fort Benning, Georgia. They were shocked, at the ages of 25 and 24, by the immature conduct of many of their younger fellow recruits, many of whom had joined for practical rather than patriotic reasons. Pat expressed his dismay at witnessing "all these weapons in the hands of youngsters" in his diary. He also expressed a yearning for the wife and job he'd left behind, as well as the hope that his military service would "free up my conscience to appreciate what I have."
The Tillman brothers persevered through airborne school and the Ranger Indoctrination Program, and were deployed to Fort Lewis as the newest members of 2nd Platoon, Company A, 2nd Ranger Battalion shortly before Christmas 2002.
Pat and Kevin were erecting tents and installing concertina wire with the rest of Company A at Arar, Saudi Arabia, only 40 miles from the Iraqi border, by early March 2003. They followed news of the invasion, Operation Iraqi Freedom, which started on March 20 while wearing cumbersome protection suits in the desert heat to protect them from Saddam Hussein's alleged chemical and biological weapons.
Rangers eventually boarded helicopters to join the battle on March 27, but the Tillmans remained in camp. They were seen as a liability rather than an advantage since they lacked seniority and expertise. Pat said in a furious diary post, "I'm not out for blood or in any haste to murder people," but "I didn't throw my life to s___ in order to load sandbags and defend Hummers." This is a f_____ insult, and it makes my blood boil. All I want to do is pull one of these loudmouth f s that is opposing me out of his throat." Despite his reservations about the war in Iraq, which he said was mostly about oil, Pat was obviously eager to see battle.
On that first operation, Manuel Avila, the M249 squad automatic weapon (SAW) gunner in Pat's four-man fire team, was wounded twice in the chest while attacking Qadisiyah Air Base northwest of Ramadi. Avila lived, but Pat was assigned to the SAW at that time.
Pat takes a break after deploying to Afghanistan in April 2004 with his M249 SAW. He was assassinated a few days later. Marie Tillman | Courtesy of Marie Tillman (From the Associated Press)
Pfc. Jessica Lynch, a 19-year-old supply clerk in the 507th Maintenance Company, was taken by the enemy on March 23 when the convoy she was riding in made several false turns towards the southern city of Nasiriyah, unintentionally becoming the point of the invading spear.
Initial press accounts stated Lynch had battled until her M16 ran out of ammo, had been stabbed and shot, and had been tortured—all of which proved out to be false. In reality, she hadn't fired a shot during the attack, and her injuries were sustained when the Humvee she was traveling in crashed with a tractor trailer. As each became characters in a deceptive wartime propaganda effort, her name was ultimately connected to Pat's in the official record.
Lynch was rescued around 12 a.m. on April 1st, after a major operation involving over 1,000 soldiers. As they carried Lynch on a stretcher from Saddam Hussein Hospital, the special operations team encountered minimal opposition and sustained no losses. The incident was captured on film by a camera team from the 4th Psychological Operations Group, during which someone put a large American flag over Lynch's chest. The Tillman brothers, who were members of a standby quick-response team, spent a chilly night at Tallil Air Base, which had been blown out.
Pat and Kevin began patrolling from an airplane hangar at Baghdad International Airport on April 9 and continued for five weeks. Pat only used his pistol once, on April 21, to deter oncoming cars by firing warning shots. The Tillmans returned to the United States in mid-May, having yet to receive the coveted Combat Infantryman Badge, to attend Ranger School at Fort Benning. After nine grueling weeks, the brothers got their shoulder patches—or tabs—designating them as full-fledged Rangers on November 28.
Pat discovered that since he had gone to a conflict zone, he might be honorably discharged under exceptional conditions as 2003 came to a conclusion. Pat's agent informed him that many NFL clubs were interested in signing him for the fall 2004 season, but he refused to contemplate an early release. He intended to fulfill his three-year commitment.
On April 8, 2004, Pat, Kevin, and the rest of the 2nd Platoon (the "Black Sheep") landed in Afghanistan for their second tour. Six days later, they flew to Forward Operating Base Salerno in the southeastern province of Khost, close the Pakistani border, to investigate surrounding areas for Taliban activity.
Pat was murdered on April 22, only two weeks into the assignment. A day later, Tillman's commanders filed a Silver Star recommendation claiming that during an ambush, he "placed himself in the line of deadly enemy fire." The suggestion was immediately sent up the chain of command, and he was promoted to corporal posthumously. News reports repeated the official narrative that Pat died as a result of hostile fire while rescuing fellow Rangers. However, within weeks, that version of events started to fall apart.
In reality, on the day of Pat's murder, Black Sheep commander 1st Lt. David Uthlaut was instructed to divide his unit to fulfill a preset time line by headquarters. The platoon's two sections lost radio communication as they drove through steep-walled valleys in their Humvees and Toyota Hilux trucks. Kevin Tillman was among the men of the trailing unit, which was ambushed by mortars and small weapons from the slopes above.
As members of the other section, including Pat, dismounted and ran to assist, trigger-happy Rangers, many of whom were in their first battle, mistaken Pat and his fellow rescuers for enemy fighters. They assassinated Afghan ally Sayed Farhad. Pat was standing next to Farhad when he was hit by a 5.56-caliber bullet to the chest, followed by three more to the right forehead, most likely from a SAW. Pat Tillman, according to fellow Ranger Pfc. Bryan O'Neal, raised his arms above his head and said, "I'm Pat Tillman!" when he and his comrades came under fire. Pat f_____ Tillman here! Why are you aiming your gun at me?!" Lieutenant Uthlaut and Spc. Jade Lane were both injured in the friendly fire incident.
Kevin arrived 10 minutes after the incident had occurred. He was informed that his brother had died, but not the circumstances surrounding his death. Unit members destroyed Pat's body armor, uniform, and other possible evidence over the next several days, while authorities doctored written statements for the Silver Star recommendation and lied to the press and the Tillman family. Brig. Gen. Stanley McChrystal, the Joint Special Operations commander, issued a secret P4 letter to top government officials a week after Pat's murder, noting fratricide—friendly fire—and cautioning civilian leadership to tread cautiously. On May 24, the narrative came crashing down when Kevin learned what had occurred from the Rangers.
Army Criminal Inquiry Division employees reenact the April 2006 friendly fire incident as part of the investigation into Tillman's killing. Army of the United States of America
The House Committee on Oversight and Government Reform issued a study in 2008 called "Misleading Information From the Battlefield: The Tillman and Lynch Episodes," which detailed the harm caused by intentional deceit in both instances. "The truth is the basic least we owe our troops and their families," committee chairman Henry Waxman said. "For two of the most well-known troops in the Iraq and Afghanistan conflicts, that did not happen. The government breached its fundamental duty in the case of Jessica Lynch and Pat Tillman."
Despite this, the committee apportioned minimal responsibility. Officials from former Defense Secretary Donald Rumsfeld on down testified that they couldn't remember many specifics. Former Army Special Operations Command chief retired Lt. Gen. Philip Kensinger was the highest officer penalized for the cover-up. Kensinger was chastised by the Army and deprived of his third star for lying to investigators, claiming he knew about the fratricide while attending Tillman's funeral ceremony on May 3, 2004.
Pat Tillman's family honored his legacy of service by establishing the Pat Tillman Foundation [pattillmanfoundation.org] despite the sad circumstances of his death and the resulting void in officialdom. It continues to offer scholarships and other forms of assistance to service members, veterans, and military spouses who wish to utilize their education to better their communities. MH
Paul X. Rutz is a visual artist and freelance writer who served in the United States Navy. He suggests Jon Krakauer's Where Men Win Glory: The Odyssey of Pat Tillman and Mary Tillman's Boots on the Ground by Dusk: My Tribute to Pat Tillman for additional reading.
This essay was published in Military History magazine in September 2021. Subscribe to our newsletter and follow us on Facebook for additional updates:
Watch This Video-
Related Tags
how did pat tillman die
kevin tillman
the tillman story